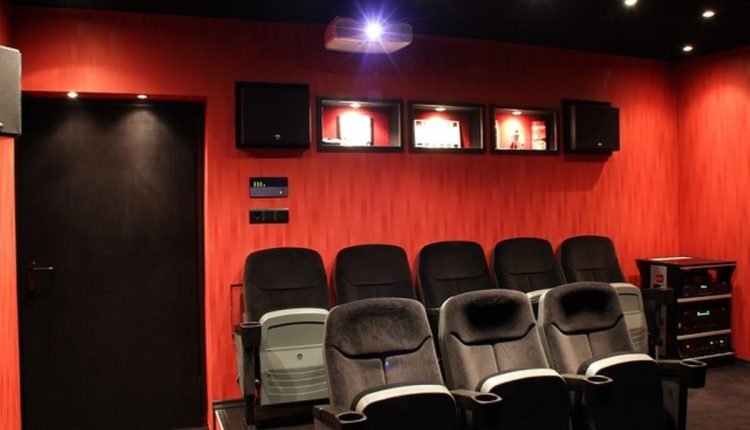 Tips for Hiring a Home Theater Professional
"Cameras, lights, action!" High-quality home theater systems are no longer the domain of Hollywood moguls alone, and their installation is no longer an extravagant luxury. A high-quality home theater system, expertly built, may be had for less than the purchase price of a used automobile or the monthly payment of a leased new car and will provide years of entertainment at a fraction of the cost.
The ten helpful suggestions shown in this article will assist you in creating a plan for your new home theater system, locating a competent installation at a reasonable cost, and enjoying years of trouble-free enjoyment from your investment.
1. Be Specific About Your Goals
Evaluate your needs and goals thoroughly before beginning a home theater installation. Before hiring a contractor, make a detailed list of everything you want from your home theater. Discuss use standards with your loved ones. Perhaps you're considering installing a home theater as your "fortress of solitude" to escape it all.
However, a multi-purpose media room where your loved ones may gather and enjoy each other's company might be more to their liking. Before making a purchase, consider the following questions and discuss them with your loved ones:
o Will your "theater" room serve multiple purposes for entertaining, or will it be dedicated to one?
How much time will you spend watching movies, sports, comedies, or other forms of entertainment?
o Do high-quality sound systems impress you very much (or do they not even register)?
o Do you host regular get-togethers for "movie nights" or sporting events?
o Would you rather have visible speakers or ones that are concealed?
o When it comes to interior design, how adaptable are you? To improve the acoustics of a space, for instance, would you install dark-fabric walls and sound-deadening panels?
o Would you like to reuse your current furniture, or have you considered purchasing dedicated home theater seating?
o Have you considered enhancing your project with luxuries like automated lighting, security alarms, landscape lighting, or a central vacuum system?
Last but not least, learn as much as you can about audiovisual technology; you don't need to be an expert on terms like THX or Dolby HD or HDMI or DLP, but you should know the basics, such as the differences between a front projector and a plasma or LCD flat panel display. You should explore your options by visiting resource websites like www.hometheatermag.com or www.electronichouse.com, but you shouldn't get too attached to any one brand or piece of technology just yet. Your meeting with an installation will go more smoothly if you come prepared with as much information as possible regarding the size and scope of the job as well as the costs of the equipment.
If you take your time at the outset of a project to narrow your options, you are more likely to be pleased with the final product.
2. Determine the Location You Desire
The location of the home theater is essential, so give it some thought. One typical example is the transformation of a basement into a home theater. Some people have a dedicated garage, while others have an extra bedroom, family room, or den. A home theater installer/integrator is essential, but you may also want to consult a general contractor about remodeling the room's walls, flooring, and electrical and plumbing.
Third, limit your spending to a range rather than a fixed amount.
Establish a ballpark figure for your project's budget, but don't commit to it yet. The next step is determining how you'll cover the project's costs. Most consumers use a home equity line of credit or financing to pay for at least some of their home theater installation costs.
There is no "average" cost for a home theater, but the typical investment ranges from $10,000 to $35,000 for a front projection home theater room outfitted with high-end components and unique design touches. These sums may sound excessive, but a monthly cinema trip may be had for as little as $10. These days, the cost of supper, a movie, and a babysitter may reach $150, roughly the same as the monthly rent on a home cinema system.
It's crucial to be adaptable with your spending plan to squeeze in an extra item or two if necessary. You need to know how much money you can spend now.
You Should Hire a Professional in Your Area
You may be a wizard at controlling the remote, but you're probably not good at keeping the cables out of sight. Or, you could be a master builder who struggles to navigate the plethora of home theater display options. Calm down and consult an expert.
"Integration," the act of selecting and assembling components in advance, is essential for creating a first-rate home theater. The top installers have worked with many different systems and figured out how to make them function. Experts in home entertainment systems possess unique abilities, including those of a programmer, carpenter, audiovisual "geek," and acoustic designer. The greatest of them will add value by choosing in advance which methods will produce the best result and guarantee years of satisfaction.
The most apparent option for consumers is to use the dealer locator on the manufacturer's website; however, these sites typically only feature installers and resellers of the manufacturer's specific brand. www.allhometheaters.com is an online database listing nearly ALL home theater and home automation professionals in the United States and Canada, guaranteeing objectivity and options. The website allows users to look for projects by category and location in their area. The city and state of each number are also provided. Discount coupons, website links, and "samples" of finished projects may be included in certain enhanced listings. You may also use the site's free CAD-style room layout software to make blueprints of your home theater that look as good as an expert-designed one.
Getting an Interview
Talk in person (at your place or theirs) with a few different installers to ensure everyone knows what's expected of them. Besides cost and competence, chemistry is also crucial.
You can learn a lot about the prospective employee from their responses to the following questions:
First of all, how long have they been operating?
Does your project need a permit? b.
Have they worked on projects like this before in your area? c.
Do they have the time and ability to do the specified work?
What would they suggest changing the project's "concept" if the money doubled? e. Halved?
f. What sort of assurances do they provide?
g. Do they fix malfunctioning devices?
h. What role do they play in warranty matters?
Inquire about whether the work can be completed in the allotted period and how long the company has been operating. Ensure you have copies of their licenses, bonds, and insurance policies for liability and workers' comp.
Be sure to request and follow up on references from happy customers. It's a good idea to have some happy customers interviewed for larger projects. Make sure the prospective contractors are financially stable by checking their references with local banks, suppliers, and subcontractors, if possible.
Check with the Better Business Bureau and the state's consumer protection bureau to see if any complaints have been lodged against the contractor or their businesses in your area.
6. Familiarize yourself with "After-Sale" Support
Who will foot the bill if something goes wrong during professional installation is a question that often gets forgotten. This is a situation where the adage "the service doesn't stop after the sale" rings true, but neither the buyer nor the seller wants to bring it up.
If your problems stem from improper installation, most technicians will make at least two free service calls. After that point, most installers will not visit your home unless you pay them. Although there may be an exception or two, questions should be raised before the work order is signed.
Get an honest answer from the installer about the most common problems with the home theater systems you're considering buying. While most solid-state electronics and speakers should perform without issue, occasionally, software problems can be found in custom-programmed control systems. The cables get jumbled up. Dead batteries are a problem. Bad pixels or burned images are standard in plasmas. After a few thousand hours of use, the lights in projectors always fail.
Before you commit to something, it's essential to ask yourself the following questions:
o "Who will fix my system if it fails?" Who, exactly, is going to see me at my house?
Who will remove it from your home, pack it, and return it to the repair facility or manufacturer if you cannot fix it?" In such a case, who would be responsible for delivery costs?
When the system is fixed, who returns to my house to reinstall it? o"
o "Do you offer written guarantees for all of these services?"
The main reason to ask these tough but essential questions at the outset is so you can gauge the installer's character. Dismissing your worries is a red flag, but talking about their hourly labor rate and extended warranties isn't as awful of an indicator, and neither is using the opportunity to address real-world problems and how they're handled. (this is a positive indicator). Will they boast about their written service guarantee (a fantastic indicator) or only offer you a 10% discount if you sign up now (a red flag)?
7 – Get It In Writing
When you have a good idea of what you want, it's time to collect quotations from installers in writing. These figures should be based on the designs and specifications you used to create your initial idea.
Once you've decided on an installer, get a contract drawn up. Make sure that you have given your plans plenty of thought. Prices for add-ons and alterations can quickly balloon. The final payment should not be issued until the job has been thoroughly inspected. The following are some of the essential elements of every contract:
Names and contact information for both parties and a thorough description of the tasks at hand.
b) The exact make, model, size, brand, and product of the materials used.
b) When do you anticipate starting and finishing?
d) Specifics on when and how the money will be transferred.
Please take your time before signing. Don't rush into anything; constantly acquire a second opinion before committing to a decision. Any legitimately good offer will still be available the following day.
Do your homework before making any purchases online.
Perhaps the most divisive recommendation is this one. The internet is a fantastic tool for learning about available technological solutions. However, creating a quality home theater is not a "do-it-yourself" activity. If you don't know that your installer will take responsibility for the installation, it's best not to purchase online. Be wary. In general, technicians won't put in something that they don't sell.
You should be able to get a rough estimate of prices by doing some research online. Feel free to utilize that knowledge to bargain with an installation for a fair price BEFORE a contract is signed. If you've already settled on a price, resist the urge to squeeze out even more savings by asking your dealer to "price match" a lower offer. When you want a pleasant, professional relationship with your installer so that you may get a great home entertainment system, this is the surest way to make enemies.
9. Considering the Recommended Retail Price to be a "Fair" Price
You will probably pay "retail" for the electronic equipment, speakers, and displays you purchase when working with a professional installer. There is a vast difference compared to the meager costs advertised online. You are not stupid for paying "retail," which is not bad. This is why.
First, many premium manufacturers refuse to supply any retailer offering products at below-cost prices or via the Internet. To put it bluntly, if it's available to buy "online," the producer is probably more concerned with volume than quality.
Second, most renowned brands aren't sold through online sites, so the prices you see online are likely fictitious. When you try to make a purchase, the one thing you want is out of stock, but the store has a "great" price on another of worse quality. Don't get taken in by this age-old con.
Third, suppose a manufacturer offers deep discounts and widespread distribution (especially for brands that can only be found online). In that case, it may indicate that they are more concerned with moving units than making a profit, which could mean they have fewer resources for after-sale support. Find a "great" deal on the internet. You may be disappointed to learn that replacement parts are expensive, customer support is difficult to obtain, and warranty conditions are unfavorable.
Finally, home theater systems are relatively complex to install, just like other large "appliances" in your home. About half of a project's cost is attributable to the equipment cost; the other half comprises the integration/installation and maintenance cost. Consider the cost of these add-ons along with the bid price. Compared to an online sale, the long-term savings from purchasing from a full-service dealer are substantial.
10 – Financing Options:
First, you should never pay in total upfront for installation services unless you are familiar with the contractor. To fund the acquisition of necessary tools and start the design process, some dealers justifiably want a 50% down payment. Don't rush into making a larger down payment.
Second, it is appropriate for an installation to request partial payment up front and the remainder at the end of the task if it will take more than a month to complete.
Third, once the job is deemed "complete," you should retain a little portion, say 10%. Carefully analyze what you mean by "complete." The installer should be paid in full if the initial estimate and project have been finished.
Finding the best home theater installer may seem like an overwhelming endeavor. On the other hand, with some digging. With enough research and common judgment, you can build the theater of your dreams without breaking the bank.
Read also: The best way to Protect Your Business From Cyberspace Crime